Agave Suite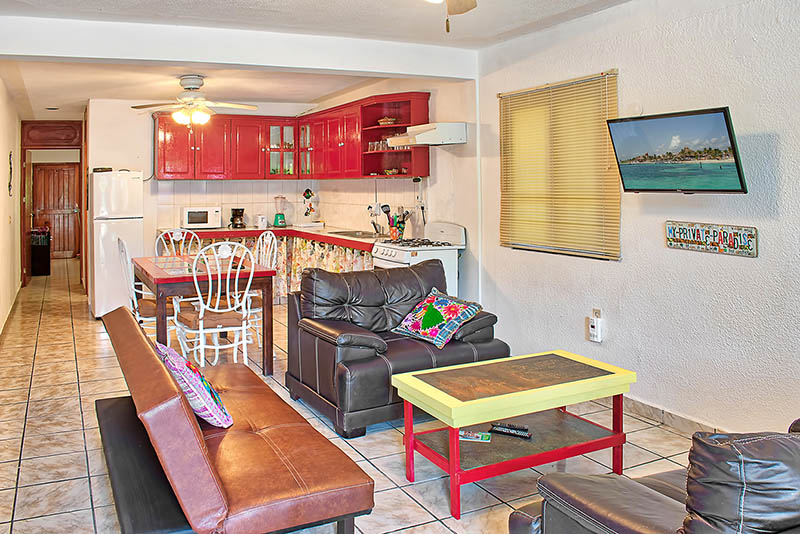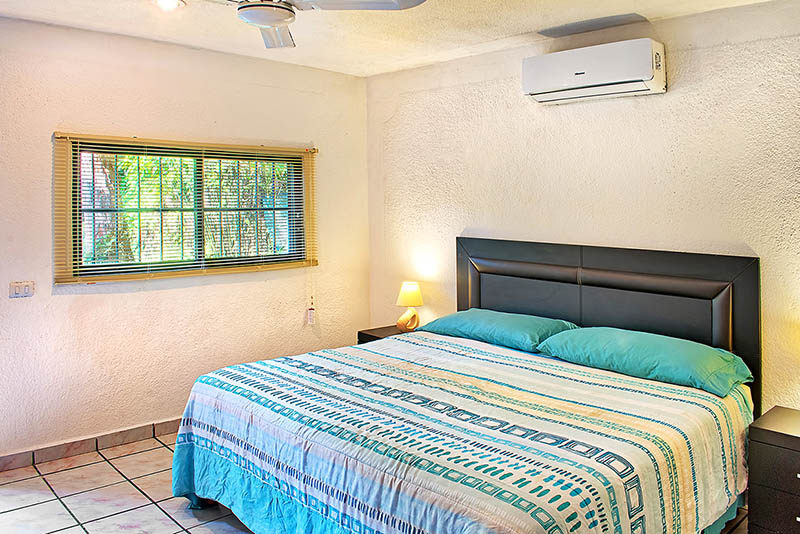 If you're like the rest of us, you probably dream of white sand beaches and the ever so clear water that the magical Caribbean coast has to offer.
Make your way to our Agave Suite, where you'll find a cozy colorful condo that's perfect for up to four people looking to relax, explore and enjoy.
While it's smaller than our other condos, it makes up for it in location. Being two blocks from the sea itself, you're closer to town center square. Within the square, you'll find crafty shops and locally owned restaurants that all hold the spirited Mexican culture of Puerto Morelos.
Explore what the town has to offer! Whether it be diving explorations or just relaxing in the sand, seaside, Puerto Morelos has endless options for enjoying your vacation.
When you're not busy soaking up the sun or going on diving adventures, spend some time in the actual suite itself. It's a ground floor home, making it easy to come and go between adventures.
Within our condo, there's a one bedroom holding a king-sized bed and one bathroom. There's also a cozy sleeper sofa in the living room, making it possible to bring more people along to the beautiful coast! No more than four people total though.
You'll also find a complete kitchen with appliances and cookware for the days that you'd prefer to cook up your own meal.
Hotels don't include cookware for you, but we are sure to. We understand that eating out every meal can be an experience, but we all have that one person in our family that loves to cook! So why not?
Make your way to the farmers market, pick out some good eats and whip up a meal for dinner. Take a walk along the beach afterwards. Watch the sunset. It's absolutely stunning here.
What to do after that long day beneath the sun? Our Agave Suite offers free WiFi as well as an internet TV making for the perfect way to end your day. Yes, even here amidst the exotic wonders of the Caribbean coast, we need our WiFi fix!
Explore the cultured town of Puerto Morelos while staying in our Agave Suite. Soak up the sun seaside or explore the town center square where maintaining that beautiful rich Mexican culture is the goal.
Beachfront Area
Street Parking
Spanish Speaking Staff
English Speaking Staff
TV, Flat Screen
High Speed Wireless Internet
Ocean Swimming
300+ Days of Sunshine
Farmer Market
Name: Agave Suite
Status: Active
Rating:

Type: Condo
Country: Mexico
State: Quintana Roo
Destination: Cancun
Location: Puerto Morelos
Condominiums: Caribe Suites
Building: Agave Building
Setting: Beach Front Area
View: No View
Internet: Yes
Sq. Ft: 625
Floors: 2
Entrance Floor: 1
Bedrooms: 1
Beds: KL
Bunks: No
Baths: 1
Normal Occupancy: 2
Sleeps: 4
Max Occupancy: 5
Parking: 1
Pets: None
Checkin: 05:00 pm or later
Checkout: 11:00 am or earlier
Website: CaribeSuites.com
Manager: Caribe Suites Meico
BED CODES: K=King, Q=Queen, F=Full, T=Twin, C=Futon Couch, M=Mattress, A=Air Mattress, L=Sleeper, S=Sofa, U=Trundle Bed, D=Day Bed
This ground floor home is about two blocks from the sea, with a single bedroom, full kitchen, AC, Wifi, internet TV and within a few blocks of the town square, shops and restaurants.
Property
Chairs Unit
Outdoor Furniture Unit
Nightstand Unit
Full Kitchen Unit
Lamp Unit
Table Unit
Smoke detector Unit
CO Detector(s) Unit
No Pets Allowed Unit
Heating & Air Conditioning Unit
Full Bathroom Unit
King Bed Unit
Bed Lights Unit
Ceiling Fans Unit
Hairdryers Unit
City Center Location Area, 2 Blocks
Center of Village Area, 2 Blocks
Lamps Unit
Landscaped Area
No Smoking Unit
Beach Towels Unit
Smoke detector(s) Unit
Ocean Front Area Neighborhood, 2 Blocks
Setting
Town Resort Complex
Village Resort Complex
Beachfront Area Neighborhood, 2 Blocks
Kitchen
Glassware Unit
Coffeemaker Unit
Cooking Wares Unit
Oven Unit
Paper Towels Unit
Plateware Unit
Pots & Pans Unit
Cooking Range Unit
Refrigerator Unit
All Sundries Provided Unit
Flatware Unit
Microwave Oven Unit
Blender Unit
Gas/Charcoal Barbecue (Charcoal Not Provided) Unit
Toaster Unit
Refrigerator - Freezer Unit
Bath
Toilet Paper Unit
Basic Soaps Unit
Cleaning
All Linens Provided Complex
Convenience
Dining Room Table Unit
Public Busses Neighborhood, 2 Blocks
Bus Station Area, 2 Miles
Currency Exchange Neighborhood, 3 Blocks
Family Friendly Area
Kitchen Table Unit
Street Parking Neighborhood
Pharmacy Neighborhood, 3 Blocks
Spanish Speaking Staff Area
Automobile Rental Neighborhood, 3 Blocks
Services
Coffee Shop Neighborhood
Shops Neighborhood, 2 Blocks
Gift Shops Neighborhood, 2 Blocks
Convenience Store Neighborhood, 3 Blocks
Grocery Store Neighborhood, 3 Blocks
English Speaking Staff Complex
Massage Neighborhood, 6 Blocks
Medical Clinic Area, 2 Miles
Hospital Area, 21 to 25 Miles
Jet Service Airport Area, 10 to 15 Miles
ATM Area, 3 Blocks
Entertainment
Television Unit
Marina Area, 1 Mile
Patio Building
Dancing Neighborhood, 3 Blocks
TV, Flat Screen Unit
Activity
Boat Tours Area
Zip Line Tours Area
Fire Pit Seasonal Unit
Snorkeling Neighborhood, 3 Blocks
Snorkeling Lesson Neighborhood, 3 Blocks
Spelunking Area
Scuba Lessons Neighborhood, 4 Blocks
Scuba Trips Neighborhood, 4 Blocks
Rental Bikes Neighborhood
Birding Neighborhood
Kayak Rentals Area, 1 Mile
ATV Rentals Area, 9 Miles
Business
High Speed Wireless Internet Unit
Telephone Building
Sports
Scuba Diving Neighborhood, 4 Blocks
Kite Surfing Area
Wind Surfing Area
Ocean Swimming Neighborhood
Golf Courses Area, 21 to 25 Miles
Laundromat Area, 5 Blocks
Attraction
Farmer Market Neighborhood, 3 Blocks
Polo Grounds Area, 5 Miles
National Parks Area
Natural Wonders Area
Public Parks Area
300+ Days of Sunshine Area, 1 Block
Botanical Gardens Area, 3 Miles
Sandy Beach Area
Tavern Neighborhood, 2 Blocks
Historical Sites Area, 50 Miles or more
Windsurfing Area
Book Store Neighborhood, 3 Blocks
Bathroom
Shower Unit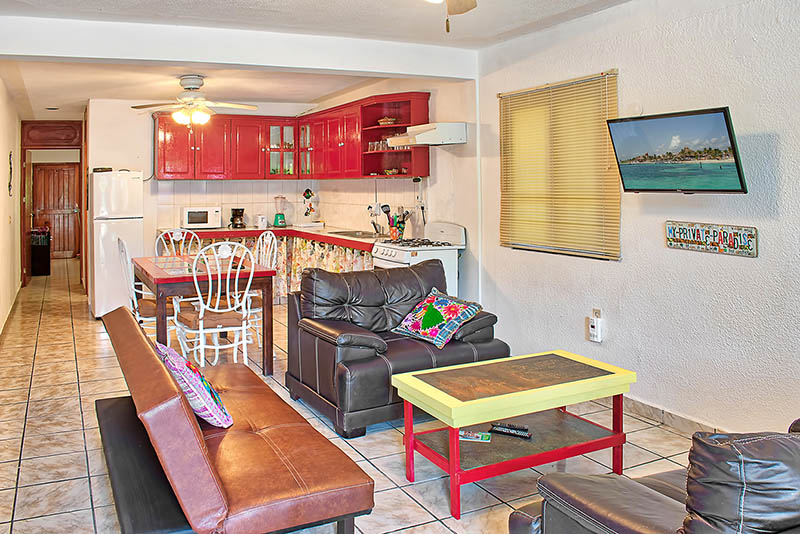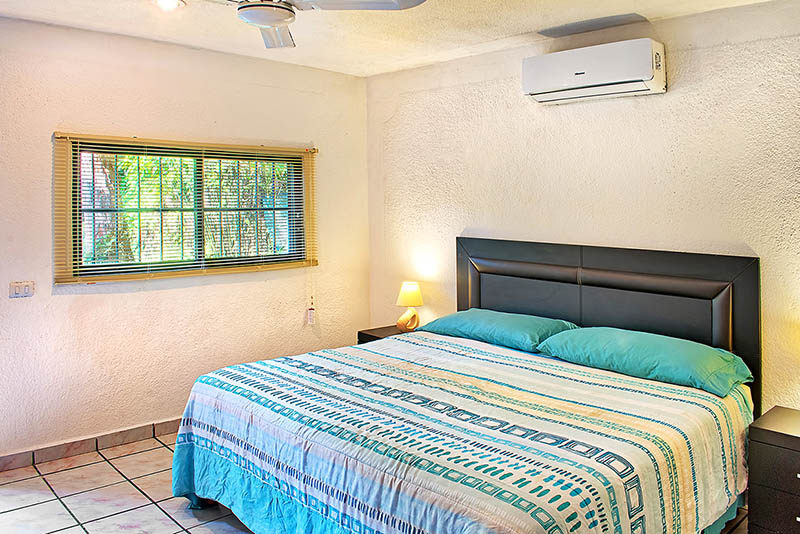 The rooms are big and bright.
Thank you for being so welcoming and helpful. It was such a treat having a fridge full of beer/cake/ceviche/guacamole when we first arrived! Wow! And the fish dinner was incredible!
Lovely times!
Lovely times! Thank you so much for having us in your beautiful guesthouse. We have been nicely received by Abraham.
This is a nice place to relax
We stayed in Agave Suite for ten days. It is a very good apartment in a nice local neighborhood
Email Manager
Already a member? Click to login
Not a member? Request info below
Say you saw Agave Suite Condo (1052) on CaribeSuites.com